Our Non-Magnetic Aluminum MRI Cart with Stainless Steel Top and other aluminum MRI carts are some of the sharpest looking MRI carts on the market today. These carts give you a large amount of features, bringing a wide variety with it's style. We want to show you all the features of our top two Aluminum and Stainless Steel MRI Carts.
Non-Magnetic Aluminum MRI Cart
This unique aluminum cart is manufactured by Solaire Medical. They have decades of experience dealing in new and innovative cart designs. Offering the most practical, efficient storage and delivery products for each individual hospital department. Solaire Medical has studied every aspect of medical equipment carts for every need. They have been able to bring the most advanced level of design, engineering and production.
Features Include
6″ Tray With:
2 Long Dividers
2 Short Dividers
2″ Tray With:
3 Short Dividers
3 Long Dividers
5″ Medical Grade Plate Caster, 2 Locking
MRI Compatible Roam 1.0 Cart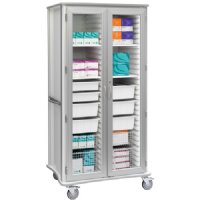 This is a straight forward MRI Compatible Aluminum Roaming Cart. It comes standard with Double Glass Doors, 5″ Medical Grade Plate Casters & and a Central Key Lock. Along with another sharp design this MRI cart has many other features.
Features:
24″ Deep Shelf
58 Usable FlexCells
Strong Ceiling to hold up to seven optional cath cues
Chart Holder with mounting bracket and hardware
Plastic waste basket that includes mounting bracket and hardware
Find Non-Magnetic MRI Carts
MRIequip.com has recently become a proud supplier of these well designed & engineered Aluminum Non-Magnetic MRI Carts. MRIequip also offers a wide variety of MRI Non-Magnetic Carts for many different uses. Different styles of carts include, wooden non-magnetic & non-ferromagnetic coil carts, medication carts, utility carts, PVC carts & many more. MRIequip also offers you anything & everything that you will need to setup & maintain your complete MRI Environment.