Hoyer Presence Patient Lift
Hoyer Presence Lifts are perfect for transferring users as needed. Effective and safe transfers reduces risk for the user and caregiver. The Hoyer Presence Patient Lift has a wide range of movement, benefiting everyone in the movement process.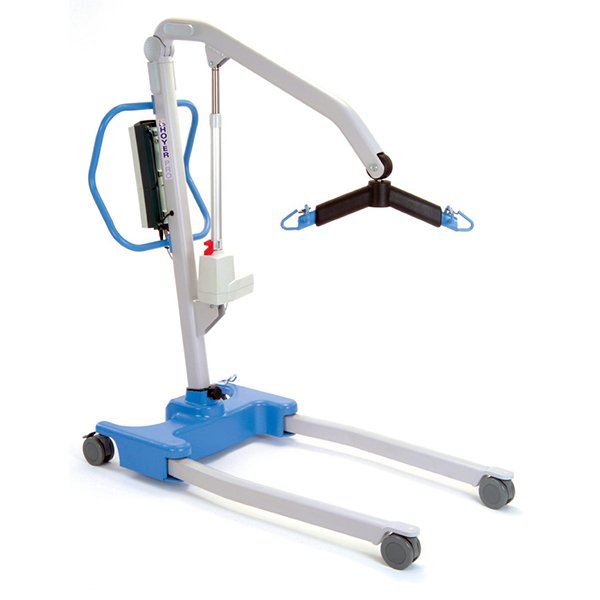 Hoyer Presence Patient Lift Description & Specs
With the Hoyer Presence lift you have a choice of lift sling systems. You can use either the conventional 6-point Hoyer cradle or the newly developed 4-point positioning cradle. You also get a wide range of sling styles, providing you the option of performing various care duties, such as toileting, standing, and point-to-point transfers. These choices provide you with a much greater option of slings to use when considering support comfort and flexibility for the resident. Hoyer lift sling options include the Hoyer single patient disposable slings, the Hoyer 4 point slings, and the Hoyer professional slings.
Hoyer Presence lifts can accommodate more of your needs than most other patient lifts on the market. Hoyer lifts are perfect for lifting patients from the floor or transferring to a high surface. The Hoyer Presence lift has an astonishing range of movement. The Hoyer Presence lifts up to 75.2 inches high. This type of flexibility can be the difference between effective safe transfers and unnecessary risk for both caregiver and patient. Hoyer lifts are quality built by Joerns.
Hoyer Presence Patient lift has been engineered and designed to handle almost any resident handling task. Along with the stature lift, the Hoyer Presence can lift residents from the floor as well accommodate transfers to higher surfaces. The 500 lbs safe working load and greater spatial area make this lift a perfect fit for larger residents. The Hoyer Presence lift comes standard with a powered base and is available with a scale option.
The high lift capacity accommodates larger patients. The Hoyer Presence patient lift provides a large spatial area for bigger patients, so transferring is now safer for you and your patient. The Hoyer Presence's safe working load is 500 pounds.
Presence Lift Features
Interchangeable Cradle Bars
Part of the restriction of using certain lifts are the slings that you can use on the product. The Presence however, gives you a choice of sling systems.
Smart Monitor
The unique Smart Monitor control box is programmable and will accurately record and display vital lift utilization and service data. An easy to read LCD display provides the valuable information at the touch of a button.
Foot Pad
Ergonomic foot pad to assist with initiating movement.
Powered Base
Operating the Presence is as simple as the push of a button. The base includes two electric actuators which allow the caregiver to open and close the legs without bending or twisting. Tapered leg design allows greater internal area without compromising overall Hoyer presence patient lift width.
Presence Lift Specifications
Safe Working Load: 500 lbs
Maximum Overall Length: 57.5″
Minimum Overall Length: 55.1″
Maximum Overall Height: 81.3″
Minimum Overall Height: 57.5″
Spreader Bar Maximum Height: 75.2″
Spreader Bar Minimum Height: 16.9″
Height at Maximum Reach: 51.5″
Reach at Maximum Height: 25.6″
Reach at Minimum Height: 15.7″
Maximum Reach*: 36.6″
Turning Radius: 64.2″
Legs Open External Width: 45.2″
Legs Open Internal Width: 40.1″
Legs Closed External Width: 26.4″
Legs Closed Internal Width: 21.6″
Overall Height Of Legs: 4.7″
Ground Clearance: 1.4″
Front Twin Castors: 4″
Rear Braked Castors: 4″
Hoyer 4 Point Position Cradle (measurement to top of location pins)
Cradle Maximum Height: 61.0″
Cradle Minimum Height: 15.4″
Weights
Mast, Base & Boom Assembly: 81.4 lbs (includes 2 point spreader bar)
Power Pack: 6.6 lbs
Total: 88 lbs
Base Assembly (not including battery): 44 lbs
Electric Shock Protection
Charger: Class II
Lift: Internal power source
Degree Of Shock Protection
Charger: Type B
Lift: Type B
Intended operating environment: >+5°C <+40°C
Outside this environment functionality and safety may be compromised
Electrical Specifications
Battery: 24vDC Rechargeable Sealed Lead Acid Type, 3.2A hours
Charger Rated Input: 100-240V AC 24 VDC 50/60Hz
Charger Rated Output: 29.5 VDC, Max. 19 W