We're going to show you exactly what you need and where to find Complete Hospital Curtain Track Systems. There are many different styles and types of curtains styles, patterns & curtain track. With the wide variety of options we are about to show you, you're sure to find something that you like & need.
Complete Hospital Curtain Track Systems
Before jumping in to the hospital curtain track systems that are available to you we need to break your options down individually. The amount of styles that you are able to select from are truly astounding. Let's start off with the base of the entire hospital curtain track systems, the curtain tracking.
Curtain Tracking
There are many different ways that you can start picking out your curtain tracking. We're going to show you all of Ocelco's Curtain Tracking Options. You can either create your own curtain track system or you can fill out Ocelco's helpful hospital curtain & curtain track quote form and they will tell you the parts you need after you give them the dimensions.
Aluminum Curtain Track

This aluminum curtain track comes grey or a powder coated white. With all of the angled track and different lengths available this curtain track can make any up any dimensions that you need it to. You can find all of the hardware for this track in the same section, or give Ocelco's friendly customer service a call for help.
Flexible Curtain Track

Ocelco also offers flexible curtain track that comes in 3 different lengths. These lengths can attach if needed. The flexible curtain track allows you to form track around certain obstacles you may find in the room easier than normal curtain track would. Flexible curtain track is recommended if you have many obstacles on the ceiling you may need to try and get around. This is another style of Complete Hospital Curtain Track Systems.
Hospital Curtains
The same quotation request form can be used for Complete Hospital Curtain Track Systems. You can certainly view all of the hospital curtain options that you have in Ocelco's Hospital Cubicle Curtain Section but we're going to go over them here as well.
Standard Hospital Cubicle Curtains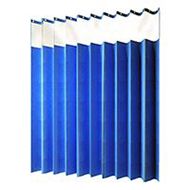 Ocelco offers many different pattern styles and color options to their standard hospital cubicle curtains. They offer any length and height that you could need in a hospital curtain as well as any color. Patterns include Antimicrobial, Black Out, Botanical, Eco-Friendly, Geometric & Tone-On-Tone. You can also view all of these patterns at once by price to see which color options will fall under which price.
EZ Swap Hospital Cubicle Curtains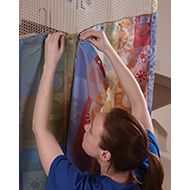 Ocelco's EZ Swap hospital curtains offer a unique advantage over any other hospital cubicle curtain. All hospital curtains need to be regularly cleaned. This can take up a large portion of time for the people who take the curtains on and off of the track. EZ Swap hospital curtains allow you to quickly and easily snap and unsnap the curtains from the mesh. You don't even need to take it off of the track. This is one simple process that will save many hours every cleaning cycle.
Privacy Screens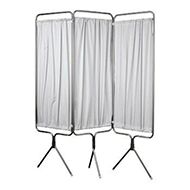 On top of hospital curtains Ocelco offers a wide variety of simple privacy screens. You have all the advantages of a regular hospital curtain in one easy to setup and transport privacy screen. This product has a variety of uses and can easily be stored away using limited space when they are not needed and is a good cost effective alternative to standard Hospital Curtain Track Systems.
Shower Curtains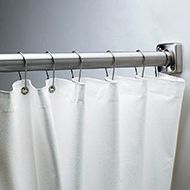 That's right on top of Hospital Curtain Track Systems Ocelco is offering shower curtains and curtain track systems. Ocelco offers some of the best shower curtains on the market including Super Bio Stat Vinyl Shower Curtains and Sure-Chek Shower Curtains. Both offering unique advantages and both a long lasting solution to your shower curtain needs.
Customer Service
We encourage you to find Ocelco's website and further explore your options as we we're barely able to scrape the surface of each of these styles of product. Or to make it even easier on you, give Ocelco's friendly customer service a call to guide and show you exactly how to complete your goal. Please call 1-800-328-5343 for more information.