The non-magnetic mri toolkit that we are featuring have been tested to meet the requirements by the US Government. These Government approved non-magnetic hand tools are are spark free as well as non-magnetic and MRI compliant.
Non Magnetic Toolkit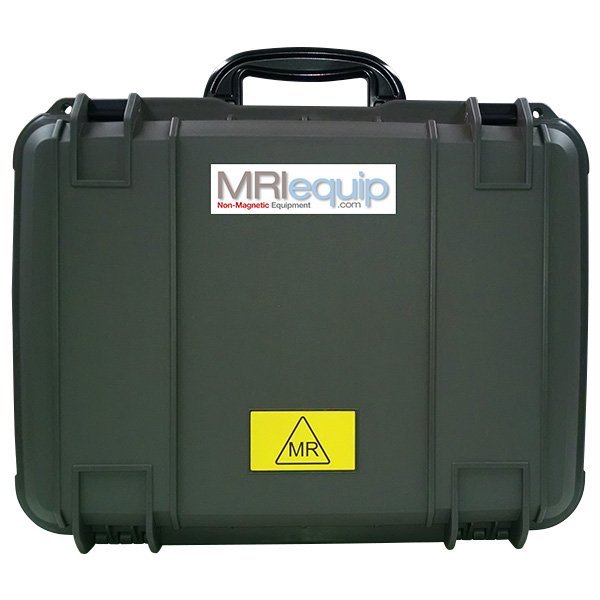 Featuring Waterproof Case 5″ Deep is injection molded and utilizes ultra high-strength polypropylene copolymer resin. Features a gasketed, water-tight and dust-tight, submersible design that is resistant to UV, solvents, corrosion, fungus and impact damage. It also features a molded-in hinge, patent pending trigger release latch system, a comfortable snap-down rubber over-molded cushion grip handle, and an automatic ambient pressure equalization valve.
Toolkit Features:
MR Conditional
Non-Sparking tools approved as non sparking
Corrosive Resistant
Lifetime Limited Warranty
Custom tool foam interior makes tools easier to locate
Foam is #2 fire retardant anti-static foam
23 Piece Non-Magnetic Toolkit Includes:
Tool Box
File Flat
Kit Hex Key 10 Piece SAE
Kit Hex Key 10 Piece Metric
Pliers Adj Combination 8″
Pliers Diagonal Cutting 7″
Pliers Groove Joint 12″
Pliers Needle-Nose 7″
Screwdriver Phillips #1
Screwdriver Phillips #2
Screwdriver Phillips #3
Screwdriver Std 1/8 x 2-3/8″
Screwdriver Std 1/4 x 4″
Screwdriver Std 5/16 x 6″
Screwdriver Std 3/8 x 8″
Wrench Adjustable 8″
Wrench Adjustable 12″
Wrench Combination 19mm
Wrench Combination 3/8″
Wrench Combination 7/16″
Wrench Combination 1/2″
Wrench Combination 9/16″
Wrench Combination 5/8″
Wrench Combination 3/4″
Non-Sparking Applications:
Manufacturing Operations
Alcohol Industries
Ammunition, Missile & Explosives
Plants
Automotive Plants (Spray Booth)
Bakeries
Breweries & Distilleries
Chemical Manufacturing
Fabricated Metal Products
Fertilizer Plants
Flammable Materials Manufacturing, Handling and Warehousing
Flour Mills
Furniture Manufacturers (Varnish and Painting handling)
Gas Plants & Coke By-Products
Glass Manufacturers
Glue Factories
Ink Industries
Insulation Manufacturing
Leather Products (Tanneries)
Liquefied Petroleum Gases (LPG)
Mining
Nuclear Products
Oil & Natural Gas Drilling, Refining & Handling
Paint, Lacquer & Varnish Products
Paper and Pulp Mills
Petrochemicals
Petroleum Refining
Pharmaceutical Industry
Pipeline Construction & Maintenance
Plastic Manufacturing
Rubber Processing Operations
Sugar Mills
Synthetic Fiber Manufacturing
Wine Industries
Non-Magnetic Applications:
Aircraft Maintenance & Overhaul
Aluminum & Other Metal Smelting
Electronics Manufacturers (Clean Room Maintenance)
Hospitals & Clinics Magnetic Resonance Imaging (MRI- Maintenance on or near)
Mine Sweepers
Nuclear Products & Testing Machines
Precision Magnetic Equipment (Compasses & Electronics – Maintenance on or near)
Public Utilities: Gas, Electric & Telecommunication
Radar Transmission Centers
Corrosion Resistant Applications:
(in the presence of Solids, Liquids or Gases where Steel Tools may experience severe corrosion rates)
Boat Owners
Canners
Chemical Manufacturing
Desalination Plants
Food Product Manufacturing
Insulation Manufacturing
Laboratories
Paper & Pulp Mills
Petrochemicals
Pharmaceutical Industry
Plastic Manufacturing
Shipyards
Tankers, Vessels & Other Work boats
Wine Industry
You can find this featured non magnetic non sparking MRI toolkit at MRIequip.com